Best Calisthenics Workout, Equipment and More
Daniël
November 16, 2022
5 mins read
Beginner exercises | Advanced exercises | Benefits | Equipment | Calisthenics vs weight training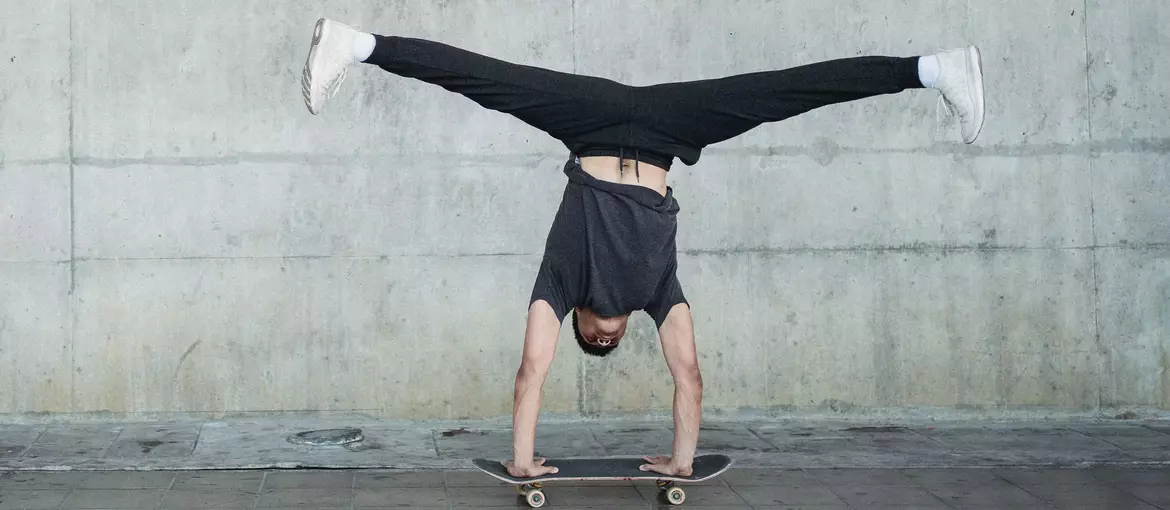 Did you just start going to the gym or are you already advanced? In both cases, you've probably heard of calisthenics. Calisthenics is strength training, but for this training you only use your bodyweight and gravity. The exercises strengthen your muscles and you can improve your endurance, coordination and mobility. A bunch of bodyweight exercises you already know are actually calisthenics exercises: squats, lunges, push-ups and crunches.

The calisthenics exercises can be performed with and without equipment. Sometimes, you need a pull-up bar for pull-ups or muscle ups. There are also exercises that are way more complex and advanced (you may know the human flag for example).

You can focus on doing calisthenics exercises only, but you can also combine it with other training styles.

One of the biggest benefits of calisthenics is that you can do it everywhere. Whether you are in the gym, in a hotel or just at a random place outdoors. No excuses here!

In this guide, we will show you the best calisthenics workout for beginners and advanced athletes.

You can try out the exercises and see which ones are doable for you. After that, you can include them into your next workout.
Best Calisthenics Workout - Beginner Exercises
Squats
The squat is a great exercise that you can add to your calisthenics workout routine. A body weight squat is really simple and effective. You can add weight or a resistance band to make it more challenging.

https://www.youtube.com/watch?v=U3HlEF_E9fo
Lunges
A lunge is great to target the legs. You can step backwards or forwards. A walking lunge is also possible. For this exercise, it is possible to make it more challenging as well by adding more weight or by jumping.

https://www.youtube.com/watch?v=wrwwXE_x-pQ
Planking/Commandos
Planking is great to improve balance, stability and strength. You target a lot of muscles, especially the core. Not challenging enough? Try commandos. For this variant, you switch to a high plank and back. This is way more difficult.

https://www.youtube.com/watch?v=UsL-oq597Zs
Leg raises
You can lie on the floor and perform this exercise. This exercise targets the lower abs. You can bend your legs to make it easier or stretch them to make it more difficult. Also, when this is easy as well, you can do hanging leg raises.

https://www.youtube.com/watch?v=JB2oyawG9KI
Push-ups
You can do a push up with your knees touching the ground to make it easier or a push up on your toes to make it more difficult. This exercise is one of the best to train your upper-body.

https://www.youtube.com/watch?v=IODxDxX7oi4
Best Calisthenics Workout - Advanced Exercises
Burpees
This high-intensity exercise is a great one if you want to target multiple muscles. You improve strength and endurance at the same time.

https://www.youtube.com/watch?v=qLBImHhCXSw
Pull-ups
This exercise is a challenge for most people, but it is a great one. You can practice this exercise on a machine where you can place your feet on a platform. This way, you can do the pull-up easier and in a more controlled way. You can also use a resistance band for more support. Wrap the resistance band around the bar and place both feet into the loop.

https://www.youtube.com/watch?v=3YvfRx31xDE
Chin-ups
This is basically a pull-up with an underhand grip. The exercise targets the biceps and the front shoulders more. Also for this exercise, it is possible to use resistance bands or a machine to make it easier.

https://www.youtube.com/watch?v=brhRXlOhsAM
L-sit
The L-sit is great for building strength in your upper-body. You can do it on the floor or with the help of two bars. You can also use a chair or other equipment.

https://www.youtube.com/watch?v=G6czgo1qT8w
Handstand
This exercise is perfect to improve your shoulder strength. You need a lot of balance to do it without help, like a wall. Practice this movement with your legs against a wall first.

https://www.youtube.com/watch?v=KNC5lkoE2Fs
Benefits of calisthenics
Doing calisthenics exercises is great for your health, and the best thing is that you can do it anywhere because you use your body weight.

Calisthenics increases your muscle mass and tone a lot when you stick to your workout program. Also, your flexibility will improve. A more flexible body will prevent injuries.

The exercises are also beneficial for your endurance. The best calisthenics workout is a workout with a lot of reps and not that much rest. Your body will get used to the intensity and it will become stronger. Your overall fitness level will be higher. Make sure that you eat healthy and enough protein.
Best calisthenics equipment
You can do calisthenics without using any equipment. However, when you are looking for more (challenging) exercises, you may need to invest in equipment.

Parallettes are one of the best options for you. They are employed in pairs and you can use them for a lot of exercises.


A pull-up bar is a horizontal bar that you can use for a pull-up, chin-up, muscle up and more. There are doorway pull-up bars and bars that you can attach to a wall.


Resistance bands can be used to make an exercise harder. You can buy resistance bands with different resistance levels so that you can make it more challenging once you've mastered the first 'level'.


Gymnastic rings can be used for a lot of bodyweight exercises. The ring we recommend are made of birch wood, a premium material.


The ab roller is great to use at home. You target the lower back and abs with the ab roller.


A weighted vest is useful when your bodyweight exercises aren't hard enough. There are different types of weighted vests. The best vest has options to adjust the weight.
Calisthenics vs weight training
Calisthenics is using your bodyweight, and when you do weight training you use machines, dumbbells, barbells and more.

Both training methods are amazing and you can see results for both methods. You can also combine the two training methods if you want to. Your preference depends on your fitness goals, the equipment that is available and what you prefer to do.

When you want to make progress with calisthenics, you need to challenge yourself over and over again with different and harder variations of an exercise. For push-ups for example, you can start with your knees on the ground and switch to a more advanced option when you master that one.

For weight training, you make progress when you use progressive overload. This is adding more weight, doing more reps or doing the reps in a more controlled way.